Powerful tool that optimises the process of collecting, processing and analysing the information from your field reps.
Allow your team to focus on growing your business instead of filling performance report. Collecting and analysing market information is now faster and more efficient. The clean and simple design of the mobile app helps your reps to get more done during their visits.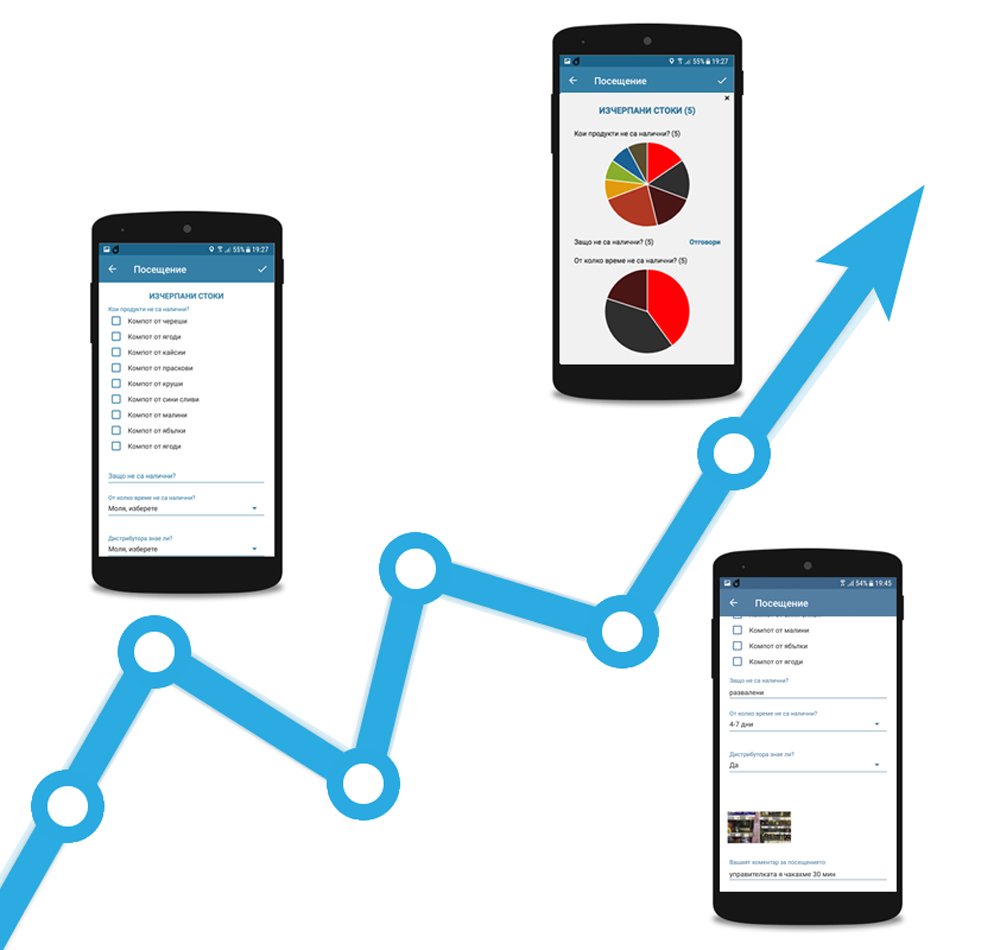 For every growing brand
Every shelve, every store, every region has its unique characteristics that are elusive but also crucial for the growth.
Movemar gives you full control over the information flow coming from your sales rep during their visits. You define the goal of each visit using the unique forms and audit questionnaires. The moment your sales rep steps in the store, everything that she has to do is on the screen of her smartphone.
The completed forms and questionnaires are processed and analysed in real time to help you make the right decisions for your company.
In the store
The moment your sales rep arrives at the store, all the information will be available on her smartphone. She will be able to edit it or, if the store is a new for your company, to add it.
Add new store
Update existing one
Fill out questionnaire or audit forms
Take pictures of the shelves and the products.
Add comments regarding the visit
In the office
While your representatives visit current and new stores, you will be receiving full update of their activities in real time.
Visits report
Competition report.
How are your products represented on the shelves
Current discounts and promotions.
Compliance checks
The whole picture
Movemar shows you the whole picture of how your brand is performing on the field. Your eyes in every store where your products are being sold.
Which are your most successful products
How is the market reacting to your new products
Which marketing campaigns and activities are most effective
Which competitors products are most often position next to yours on the shelves.
Competitors activities and moves.
Where your products are most often positioned.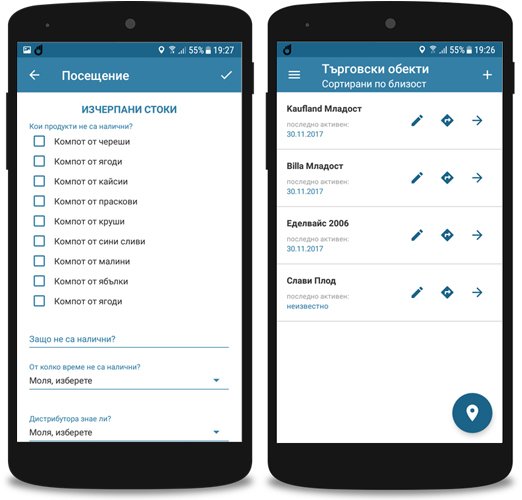 Smartphone app
Working on any modern Android based smartphone.
Equip your field teams with the most efficient data collection tool. The Android app comes with intuitive and easy to learn design helping your field team to be productive.
Add new stores
Update or add more details for existing stores.
Fill out forms
Take photos.
History ofpast visits
Back office app
The web application is the control center for your team of representitives. It is where the whole process is being managed. Creating new questionnaires and forms, adding new products, managing your team's responsibilities and their performance..
Stores selling your products and how your team handles them
Sales reps and their performance.
Creating new questionnaires and forms
Statistics for the filled questionnaires
Task management for your whole team.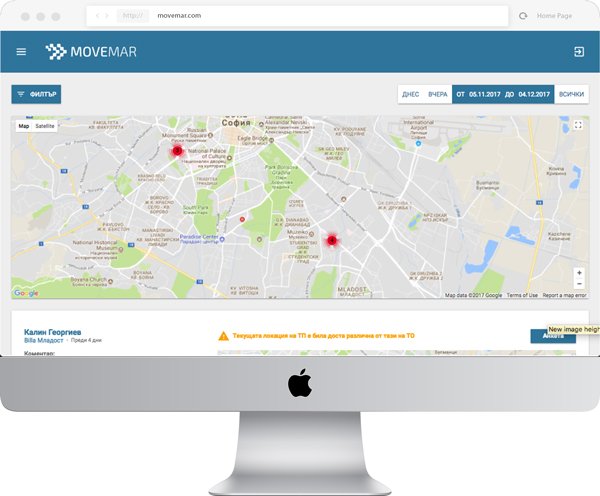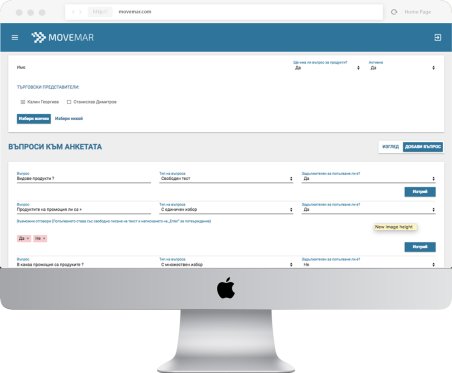 Questionnaires and audit forms
You define what questions to be asked and what checks to be made by your representatives. Quickly create all the necessary forms and personalise them if necessary.
Closed questions with 1 possible answer
Closed questions with more than 1 possible answers
If this then that questions>
Open questions
Product checks
Statistics and reports
Complete market information - trends, competitors' performance, products performance, representative performance and more.
Sales reps reports
Customer relationship
New stores
Combined report of each type of form.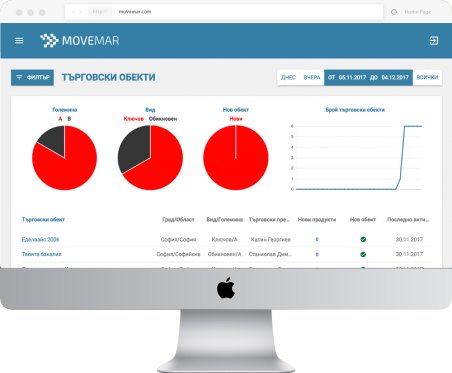 Movemar provides you with crucial insights about your Brand by helping you obtaining and organizing market information from your sales reps.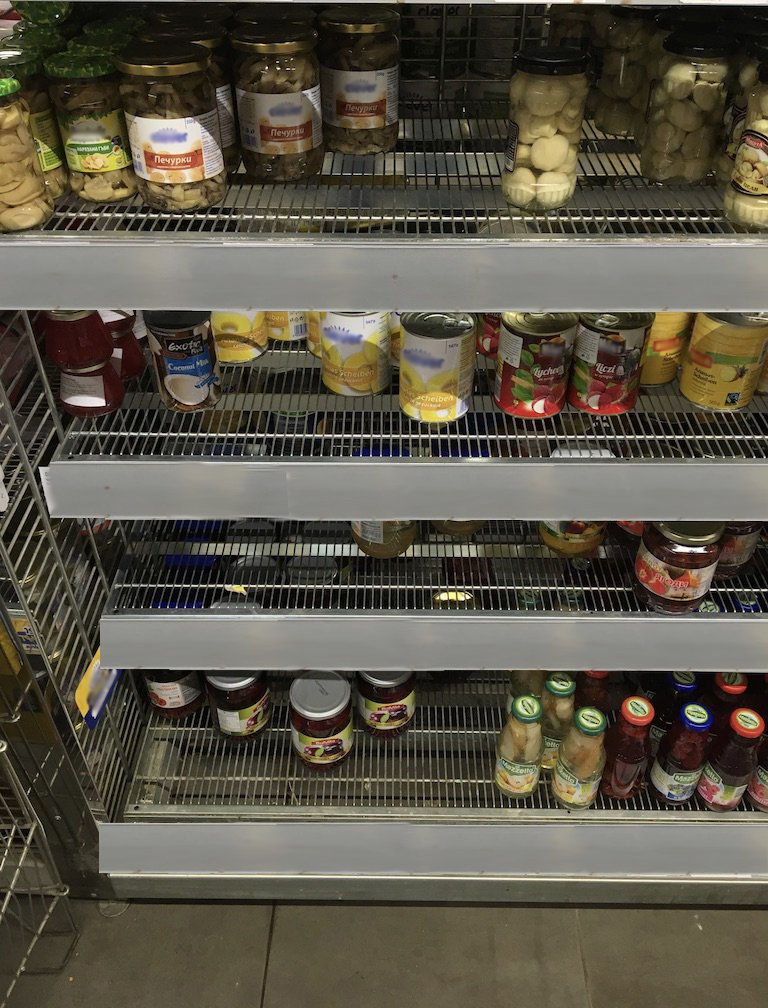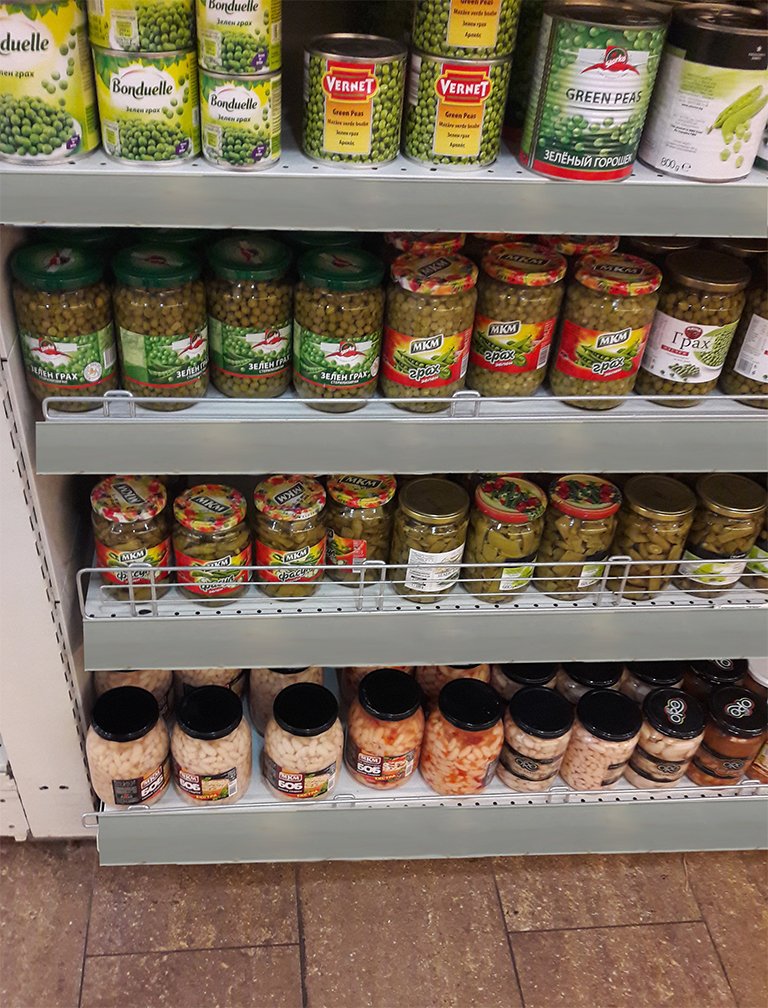 Stay ahead
Where and how your products are positioned is the key to improve your sales.
Movemar gives you complete control over where your products are placed on the shelf and if the agreements with each store are kept.
Many companies are making their merchandising decisions based on limited information. This could be easily avoided with the help of Movemar and the continuous information flow coming from your field reps.